Natalie Grant & Selah- CURB RECORDING ARTISTS BIG WINNERS AT DOVE AWARDS
Natalie Grant wins Female Vocalist of the Year for the fifth time!
April 20th, 2012 – Curb recording artists Natalie Grant and Selah were repeat winners at this year's Dove Awards in Atlanta. Curb artists were involved in five Dove winning projects.
For the fifth time, Natalie Grant received the prestigious Female Vocalist of the Year award from Dove voters. The song "Your Great Name", from Natalie's CD Love Revolution won Worship Song of the Year.
"I'm so honored to receive the Female Vocalist of the Year award again," Natalie said. "I thank God for his many blessings this year. The opportunity to record a song such as 'Your Great Name' was very special. It's been incredible to see how people have responded to this song."
Selah won two awards: Inspirational Song of the Year for "Hope of the Broken World" and Inspirational Album of the Year for their "Hope of the Broken World" CD.
Special Event Album of the Year went to "The Story" which features both Selah and Natalie Grant.
"This is the 2nd time in 10 years that we've won in a Song of the Year category so we're honored and excited," said Todd Smith of Selah. "This album is all about hope and it is great to have your peers recognize your work. We're so excited to win three awards tonight". Prior to this year's ceremony, Selah had won five Dove Awards.
The show airs Tuesday, April 24th 8/7 cst on the Gospel Music Channel.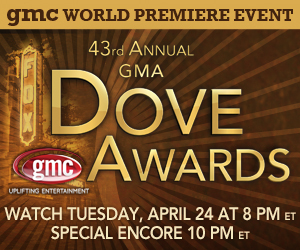 For more information on these and other Curb artists, please visit www.curb.com.